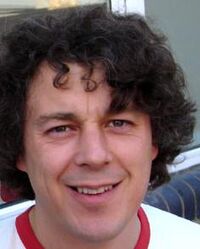 Alan Davies (born 6 March 1966) is an English comedian, writer and actor best known for starring in the TV mystery series Jonathan Creek and as the permanent panellist on the TV panel show QI. He is most well known for finishing dead last. A lot.
External Links
Edit
Ad blocker interference detected!
Wikia is a free-to-use site that makes money from advertising. We have a modified experience for viewers using ad blockers

Wikia is not accessible if you've made further modifications. Remove the custom ad blocker rule(s) and the page will load as expected.